From one of our staff: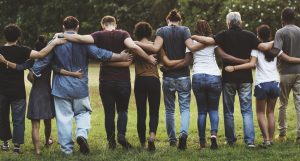 Once we were in Lafayette, LA, where Josh spoke at a conference. While there I had several people share how our ministry has impacted their life and the life of their families.
One woman told me that her sons were heavily influenced by Josh (and the ministry). Every time they'd hear of Josh being in Houston, their youth group would load up and head out.  In the mid-1990's they were at our Counter the Culture / Right From Wrong youth event held at the Astrodome with Newsboys and Rebecca St. James. The Astrodome was packed out that night … 60,000 people in attendance.
Her sons were raised on Josh's materials. Today, one son is a worship leader, and the other one just got his Masters of Divinity.
Another guy was buying some books for his kids and grand kids. Told me that Josh brought him to Christ years ago at Northern Illinois University back when Josh did his three night speaking series. This guy was a teenager at the time and was invited by some college students to hear Josh. He went with them, and what he heard made sense. He gave his life to Christ one of those nights.
Prime example of our inter-generational ministry . . . this guy came to Christ through our ministry, and now he was buying resources to help his kids and grand kids. Both people were grateful for what we do.
See our free resources for families HERE!