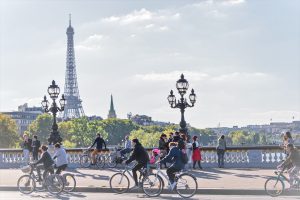 "More than a Carpenter" has been given away on campus, at special Christmas and Easter events, at doctor's appointments, and in various other situations, and we are so excited to see the interest people have shown, especially because it is definitely not the expected typical French response.
"We gave about 50 copies of the book to those who came to the special Christmas event we organized for the students. One of them, Thibaud, told us that thanks to reading the book he became convinced of the divinity of Jesus Christ. Another young man, Stéphane, who is an atheist and not ready to read the Bible yet, read the book from cover to cover. About a week later we had a debate resulting in a number of interesting conversations which Stéphane found really stimulating."
(A. from Toulouse)
"Three years ago a former student did the Alpha course. When I first met her, she told me that she did not see how she could possibly believe that what the Bible said about Jesus and the resurrection was true. So, at the time, I gave her a copy of Josh Mc Dowell's book: "Evidence that demands a verdict" (a big fat book in French!) that she literally devoured. Since then she has come to fully embrace Jesus as the son of God and the reality of his resurrection. She moved away after her studies and recently came to visit me accompanied by a friend. In the course of our conversation, the issue of faith and spirituality came up, so I offered the book to her friend, and he willingly accepted it!"
(L. from Lyon)
"Our team approached students with a special Easter questionnaire. We asked students how they celebrate Easter, what it means to them, whether they believe in God and who Jesus is. After discussing these things we offered them a copy of "More than a Carpenter." About twenty students accepted the book, showing genuine interst in examining who Jesus is. We also gave them an email address or phone number if they wanted to ask questions or talk about what they've read."
(D. from Rennes)
"Marélie is a freshman studying journalism in Montpellier. When I met her in December, she told me that she did not believe in God and did not see a need for him. Later that month, she came to a Christmas outreach. At the end of the outreach, I gave her "More than a Carpenter". She was skeptical at first, but after winter break, she told me that she had read the entire book. And she really liked it!
"This is what Marélie said: "I am making steps towards Jesus. My parents don't recognize me anymore! I talk now like god exists."
"It was evident that God had used the book to move her out of atheism.
"One Bible verse quoted in the book spoke to her so much that she copied it down and carried it in her pocket. Her atheist father, noticing a difference in Marélie has begun to ask questions and would like to read the book too!"
(J. from Montpellier)
"I took the book with me to the doctor's to read in the waiting room, but also with the idea that maybe I could give it to him if the opportunity presented itself. At the end of the consultation, the doctor noticed the book on the chair next to me and asked: "What's that you're reading?" I said that it was about spirituality and the Christian faith. I told him that in it the author shows that you don't need to throw your brain out the window in order to believe. Seeing his interest, I said he could have the book. The doctor seemed both surprised and grateful and told me he thought his wife too would be interested in reading it.
"It was so encouraging to me to see the Holy Spirit was at work, first by nudging me to take the book to the doctor's appointment but even more by him expressing an interest in the book without me saying anything to draw his attention to it!
"I also gave "More than a Carpenter" to a former atheist with a strong scientific background who still has some struggles with the intellectual basis of her faith. I felt that the book, with its strong logical argumentation, would be really good for her. She has recently begun reading it and I'm looking forward to being able to talk about it with her."
(L. from Lyon)
Finally, Joy and her husband, a couple who have a ministry among members of the military in Toulon, said that the book was made available to them at a perfect time for them to be able to give copies of it as a Christmas gift to 30 military and also to 25 students in their English classes. Joy said "it has been a tremendous blessing to us"!
This morning, as we were finishing this letter, a man walked into the office asking for directions and we had a lengthy conversation during which the Holy Spirit led us to give him the book. He assured us he would read it.
We are thrilled by what God is doing in people's hearts as they read "More than a Carpenter". We want to thank you for all you have done to help us make this book available to people hungry for God in France and pray that the testimonies in this letter might by of great encouragement to you all.
Warmest wishes in Jesus – The French team