When a child is born, he is not expected to be able to walk until he is about a year old. But if he is not walking by the time he is around 2 years old, it's clear that something is wrong. Learning to walk is a major turning point in the child's life, as it ushers in other major developmental milestones. 
Have you considered what is involved in the process of walking? First, we must learn to support our body weight on our legs. Then we have to learn to balance, and stand without support. Finally, we must learn to momentarily place our full weight on one leg, and then transition that weight to our other leg. Only in mastering this transition do we gain the faith that we will, with practice, be able to easily walk on our own.
> Note what the Bible says about the process of walking. 2 Corinthians 5:7: "For we walk by faith, not by sight." As I studied this idea of walking by faith, I noticed three descriptive prepositions that accompany our spiritual walk.
---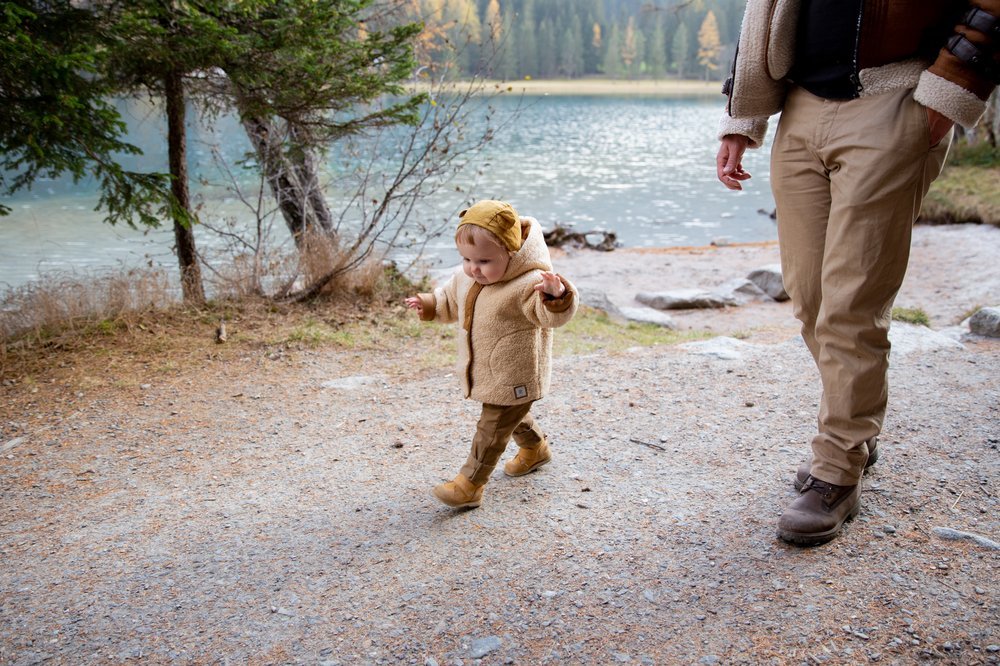 ---
> The first preposition is the word "in."
Scripture tells us to walk in the steps of faith (Romans 4:12), in newness of life (Romans 6:4), in the Spirit (Galatians 5:16, 25), in love (Ephesians 5:2), in Him (Colossians 2:6), in the light (1 John 1:7, Revelations 21:24), and in truth (3 John 1:4). Just as a child learning to walk uses props to aid his balance, these give us balance to trust the Lord during our faith walk.
> The second preposition is the word "as."
This word is used illustratively, revealing additional truth. 1 Corinthians 3:3 directs us to walk as mature adults; as followers of Christ who have long passed the elementary stages of just beginning to walk. Ephesians 5:8 directs us to walk as children of light, mature in our faith.
> The third preposition is the word "by."
2 Corinthians 5:7 reveals the methodology of walking on the spiritual level. The Lord is represented by one leg, and you and I by the other. He carries the weight of responsibility and direction; we carry the weight of obedience and faith. We cannot move until He directs us, and He will not move without our obedience and faith.
Our first steps of faith are uncertain, our trust a new process. But as we begin to understand how God is developing us, we gain confidence and skill in walking in harmony with Him. This process is necessary to grow our faith, so that we do not remain undeveloped in His image and likeness. Without developing, we remain insensitive to the Lord's voice, ineffective in our service, and unconscious of our spiritual existence. Simply put, we become salt that has lost its savor.
---
Hinderances
Christians often struggle with learning to walk in faith when they lack strong examples. Some don't receive encouragement to grow, while others hold on to wrong teaching and other hindrances that stall their walk. It's like they are only able to hobble. Hobbling, as a mode of forward movement, does not get us very far. And the energy it requires is impossible to sustain.
To walk by faith, then, we must trust in the Lord, not ourselves. And as we learn to trust Him to lead and empower us to do His will, we begin to see Him doing more and more through us. We find ourselves not just walking, but running to finish our race!
---
Guest blogger Vernon Ball, a retired pastor, is 75 years young. In his 50 years of preaching, Vernon pastored five churches and served as interim pastor of four others. He is the author of the book, The Mystery of Faith. A great-grandfather of 12, Vernon is currently involved in international ministries in Eastern Asia. His website: Ballministries.com.