Mrs. Clark's 7th Grade Bible Class Discusses:
Prophet Jesus: The Good Teacher Myth
Jesus has made it very clear that He is the Son of God–but some people dismiss this His Lordship and divinity, calling Him a "good teacher" instead. Jesus claimed to be God–either He is who He says He is, or He lied, or was crazy. His claims don't allow us to pretend He was just another teacher.
"If you are the Messiah," they said, "tell us."
Jesus answered, "If I tell you, you will not believe me, and if I asked you, you would not answer. 
But from now on, the Son of Man will be seated at the right hand of the mighty God."
They all asked, "Are you then the Son of God?"
He replied, "You say that I am."
Then they said, "Why do we need any more testimony?
We have heard it from his own lips."
Luke 22:66-71
Study Sessions
From the following verses, do you think Jesus left any doubt that he was the Son of God?
Matthew 5:17
Matthew 12:8
Matthew 24:30
Mark 2:10
Mark 13:23
Luke 12:9
---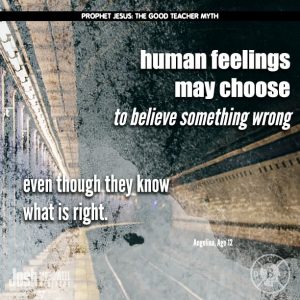 The Good Teacher Myth claims that Jesus was only just a man who taught about God. He was just a prophet, a teacher, a kind of apprentice of God, that taught.
In the book it also says how if people were to see that Jesus was not who He said He was, then they would call him a lunatic or a liar. Of course this is not true, but human feelings may choose to believe something wrong even though they know what is right.
Though some people know that Jesus is who He is, they may believe other things.
In John 13:13 it says, "You call me Teacher and Lord; and you are right, for so I am." This is Jesus saying," I am the Son of God" right to everyone's faces.
So what the myth is wrong about is that not only is Jesus NOT just a teacher, but He is also the Son of God.
Angelina, age 12
---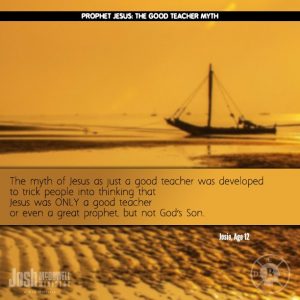 Jesus is often referred to as a good teacher because He taught about the good news of God. He was a teacher, but He was also so much more than just that.
The myth of Jesus as just a good teacher was developed to trick people into thinking that Jesus was ONLY a good teacher or even a great prophet, but not God's Son.
Besides preaching, Jesus also did miracles, and forgave sins. Only God can forgive sins, so Jesus has to be God or at least part God. Jesus is actually 100% man and 100% God at the same time. This is hard to understand because we are only human, and we need a greater understanding to understand everything about God. Jesus was called a good teacher but claimed to be God's Son.
If Jesus is only a good teacher, then He lied to us about being God's Son.  Where would this leave us?
As a Christian, I know Jesus is God's Son.  Although, for the people who haven't accepted Christ, they are still smart enough to suspect that a "good" teacher usually doesn't lie or contradict themselves.  Jesus claimed to be the Way, the Truth and the Life.  Therefore, Jesus is the Son of God and more than a good teacher.
Josie, age 12
---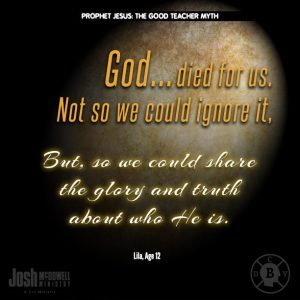 How Despicable. A way to corrupt the earth, and lead it away from Jesus. A lie.
People are saying Jesus is no savior, no king. Just a good teacher.
It is true, He was an incredible teacher, and from a very young age too, but that's not all He was.
He was more; He died on the cross for our sins and rose again. As it says in the the book, "…He claimed the power to read men's minds and hearts and to forgive sins. They have His words, 'I have come down from heaven' (John 6:38)." (p.16)
As it says in God's word, "Lying lips are an abomination to the Lord, but those who act faithfully are his delight." (Proverbs 12:22)
God did what He did, and died for us. Not so we could ignore it, and lie about who He was. But so we could share the glory and truth about who He is.
Lila, age 12
---
"Today the sincere seeker of truth can have complete confidence, as did the first Christians, that the Christian faith is based not on myth or legend but on the solid historical fact of the empty tomb and the risen Christ."
(Don't Check Your Brains at the Door, p. 78)
---
Don't Check Your Brains at the Door gives teens answers that make sense, even for the toughest of questions: 
Does it really matter what you believe, as long as you have faith?
Are there errors in the Bible?
Was Jesus just a good teacher?
Can anyone prove His resurrection?
What does that have to do with me?
Using clarity and humor Josh McDowell and co-author Bob Hostetler expose common myths about God, the Bible, religion, and life to show how Christianity stands up to the test of fact and reason.
With these solid evidences teens will be better understand the faith they live and know what they believe and why.