On this Father's Day, I am thankful for the spiritual role model my dad has always been for me. A senior pastor at Rockpoint Church in Lake Elmo, Minnesota, he began to ingrain in me, at an early age, the four traits of biblical manhood. 
When someone asks me to define biblical manhood, I reference Raising a Modern Day Knight, the resource my dad and his friends used to teach me and my friends that a biblical man rejects passivity, accepts responsibility, leads courageously, and expects the greater reward, God's reward.
Now, years later, the traits are ingrained in my mind. They stuck because my dad didn't just teach them, he modeled them. The traits have been my guide for decision-making, and a checklist for my character. I believe that I am the man I am today because of my dad's teaching and actions.
---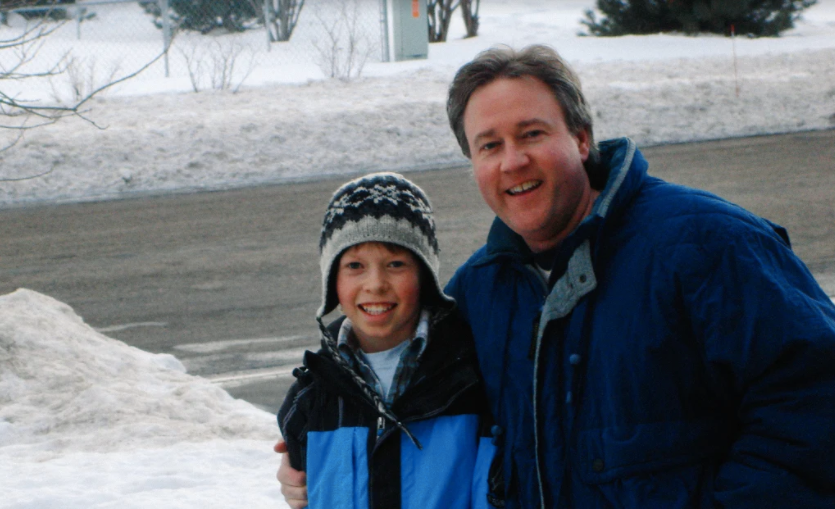 ---
For 50+ years, Josh McDowell Ministry has been leading seekers into a deeper knowledge of God's truth and power. We offer you our accumulated knowledge and research to help you find truth and encouragement to live a healthy and whole life in Christ.
---
Modeling The Four Traits of Biblical Manhood
As my friends and I sat around the fire one night in Northern Minnesota, our dads took the opportunity to teach us about biblical manhood. We each pulled out our journals and took notes. In that moment, I didn't know how influential the Raising a Modern Day Knight program would become for me. The four traits, which I highlight below, have helped me to pursue Christ as I navigate this sin-soaked world. 
1) A Biblical Man Rejects Passivity
From the very beginning of the Bible, we see the theme of work. In the first couple of chapters of Genesis, the author describes God's creation of the world as "work." This work is connected with divine, orderly creation and human purpose. In Genesis 1, we see God taking delight in His work. Genesis 2 expands to God caring for His creation. He then commissions humanity to continue His work. Genesis 1:28 says that we are to "fill the earth and subdue it." 
The commissioning of humanity's work was designed to bring us reward and freedom. But it requires our discipline. The book of Proverbs tells us that God is honored by our good work habits. These habits are formed from our reverence for God, and generally lead to our prosperity. It's easy to sit back and take a passive approach to life, but you and I are called to a higher standard. 
I have watched my dad work not just for the provision of our family, but for lives of many to be changed by the good news of the Gospel. My dad doesn't sit idle, but works out of obedience from the calling of his loving Lord. I actively reject passivity because of his actions.  
---
2) A Biblical Man Accepts Responsibility
Parents raise their kids to the best of their abilities, but that doesn't mean there won't be hurt in the process. As a kid, I always wanted my parents to be perfect. I knew my sin and mistakes, but I struggled when my parents would fail. It wasn't until later in life that I realized that my parents are just like me: broken and sinful, yet saved by the grace of God. The difference between my sin and my parents' sin has been their response. 
I used to (and sometimes still do) hide in my sin as it produces guilt and shame. Like Adam and Eve, we tend to respond to our failures by running and covering. I find my gut reaction to sin is to shift blame, lie, and avoid pain. But my parents have modeled a better response: dealing with their sin quickly and responsibly, as God commands. They repent, first bringing their sin to God in confession, then to others in conversation, and finally by taking active steps to turn from their sin. 
I learned to accept responsibility for my actions by watching my dad. I remember a few times he understandably got frustrated with me and my sisters, only to sit next to us in bed later that night, to apologize and ask for our forgiveness. Those little moments of taking responsibility have been monumental in my own integrity and development.
---
3) A Biblical Man Leads Courageously
My dad leads from his convictions, not necessarily his beliefs. To hold a belief, people know what they believe in. But to have conviction, we must know why we believe it, and have experienced it in our lives.   
I've learned that being a spiritual leader isn't always about spiritual conversations, group devotions, or the outpouring of knowledge. These are important, but one of the most important ways we can model spiritual leadership is through our daily walk with Christ. Most of the time, leadership isn't public. Rather, it is in our private moments, when we choose to do the right thing when no one is looking.
Jesus, in John 15:4-11, calls us to remain in Him, as He is the one who produces life. Courageous leadership stems from remaining in the source of all good things, our heavenly Father.
 My dad has always led my family publicly, and himself privately. I have always admired the way he processes things with my mom, discerns current events, and spends time reading and applying God's word. My father's leadership isn't just affecting lives here on earth, but affecting lives for eternity.
---
4) A Biblical Man Expects the Greater Reward, God's Reward
My dad also modeled that biblical manhood is rooted in meekness and humility. Meekness is power under control. Humility is knowing who you are, Who made you who you are, and giving God the glory. Biblical manhood is not working or leading for recognition by others here on earth, but for the one whose opinion ultimately matters, our heavenly Father. We can only grasp this eternal mindset when we continue to remain in Christ, walking in His way and following His example. 
What ultimately matters is if we know Jesus, not how much stuff or recognition we have. Do we love people well, are we guiding them toward the gospel, and furthering their fulfillment in Christ? My dad has an eternal mindset, and is working for eternity. To the best of his ability, he strives to do all things for the greater reward, God's reward.
---
A Modeled Relationship & Spiritual Legacy
My dad did not learn to model these godly character traits on his own. To understand why my dad taught them to me, we have to look at his relationship with his own father. I have a loving, principled father because of my grandfather. 
My grandpa was a sharecropper. He was raised dirt poor, by an extremely dysfunctional father. Hearing him say that he hated his dad still shocks me. My great-grandfather stole from my grandpa and victimized him. Angry and bitter, my grandpa sat in the little chapel where he first heard about Jesus. Confessing Christ as Lord, he chose not to be a victim, but to forgive his father and walk in the way of Jesus. 
My grandpa made the decision to model Christ's ways to my dad. Because of that choice, my father was then able to model biblical manhood to me. The blessings I have received from my dad are the result of my grandfather's obedience and faithfulness in walking with Christ. Click this link to listen to my grandpa's story from my dad's perspective.
Sadly, I all too often hear stories of father wounds distorting and damaging family relationships for generations. My grandfather's testimony teaches us that it takes choosing to change to disrupt this painful cycle. It requires a step of obedience to forgive, not live as a victim, and walk in the love that Christ modeled. 
My dad hasn't just taught me about the Bible, he has walked the way of Jesus in his everyday life. His teaching hasn't just led me; his actions have motivated me to follow in his footsteps. 
I love you dad. I am so thankful for the impact you have had on my life. You will always be my hero! 
---
Happy Father's Day!
---
Austin serves as a speaker with the Josh McDowell Ministry. A recent graduate of Talbot School of Theology, Austin and his wife Hannah seek to reach a wounded and broken generation in relevant ways with the gospel of Jesus Christ.