Mrs. Clark's 7th Grade Bible Class Discusses:
The Bible and the Telephone Game
The Variant Reading Myth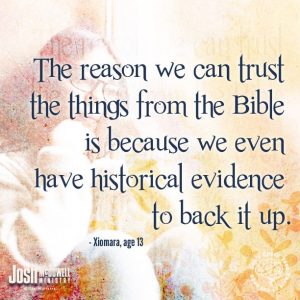 In chapter 11 we learned about the Bible and how truly reliable it is.
Some people might think it's old so it can't all be true, or that some things were lost in translation.
Those same people will teach and tell everyone about other authors who have written things hundreds of years ago and barely have any other copies or have anything to confirm they are real, which clearly does not make sense.
The reason we can trust the things from the Bible is because we even have historical evidence to back it up.
As well as the fact that copies of the Bible were made around that time, and for anything at all to be added to Bible it had to be 100% true. The people who wrote it also had to be close to someone who experienced that event, or witnessed it. This how we can absolutely debunk the "variant readings" myth.
Xiomara, age 13
That's why [myths] exist, so that we can take down these meaningless myths and in turn, make our own faith stronger.
Don't Check Your Brains at the Door gives teens answers that make sense, even for the toughest of questions: 
Does it really matter what you believe, as long as you have faith?
Are there errors in the Bible?
Was Jesus just a good teacher?
Can anyone prove His resurrection?
What does that have to do with me?
Using clarity and humor Josh McDowell and co-author Bob Hostetler expose common myths about God, the Bible, religion, and life to show how Christianity stands up to the test of fact and reason.
With these solid evidences teens will be better understand the faith they live and know what they believe and why.